Pacific Palisades Condos For Sale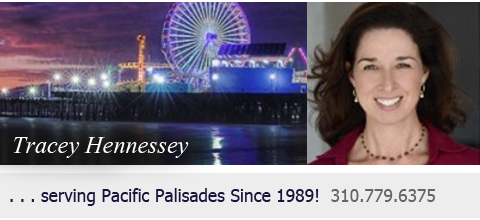 Pacific Palisades is one of the premiere upscale destinations for condo buyers from around the world, let alone Los Angeles. Tracey Hennessey offers condo sellers and buyers the benefit of over 26 years realtor experience in this neighborhood. There are so many things to look for when making a purchase or selling your home in Pacific Palisades:
Are you on a quiet street?
Does your condo have good exposure?
What about the school district ?
What is the status of the homeowners association?
What are the reserves?
Are there pending repairs, assessments or litigation?
Are the records up to date?
Whatever your status as a home seller or buyer may be, Tracey has the detailed knowledge of this area to guide you to the best choices available to you. Give her a call today! (310)779-6375